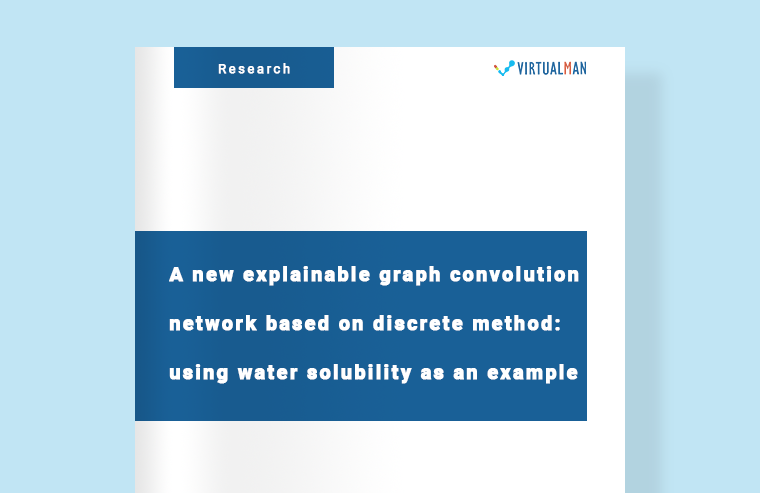 A new explainable graph convolution network based on discrete method: using water solubility as an example
Research
21, August, 2020
Author(s):
Hsin Liu, Cheng-Wei Lee, Bo-Han Su, and Yufeng J. Tseng
Abstract:
Over the past few years, the effectiveness of neural network methods has been approved in several fields, including image recognition, natural language processing, and chemical properties predicting. While the neural network provides higher accuracy, its lack of explainability tends to limit the use for chemists. Water solubility is one of the endpoints that neural network methods can achieve higher accuracy than other machine learning methods. However, the predicted property cannot be further modified without explainability. In this study, we adopt explainable discrete element approach to construct the graph convolution neural network (GCN). To train the model, we use Delaney's dataset, the benchmark of the water solubility. Then we compare the output of the model with the existing knowledge about water solubility to explore the versatility of the explainable GCN model. In conclusion, the above model provides the same prediction as indicated by existing knowledge about how the functional groups affect water solubility. With the explainability of neural network models established, it is expected to apply the same method to other endpoints prediction about how the functional groups affect the results.
References:
1. David K. Duvenaud, Dougal Maclaurin, Jorge Iparraguirre, Rafael Bombarell, Timothy Hirzel, Alan ́ Aspuru-Guzik, and Ryan P. Adams. Convolutional networks on graphs for learning molecular fingerprints. In Advances in neural information processing systems (NIPS), pp. 2224–2232, 2015.
2. Delaney, J.S. (2004). ESOL: estimating aqueous solubility directly from molecular structure. J. Chem. Inf. Comput. Sci. 44, 1000–1005.
Recommended News
Conference
12, April, 2021
CONFERENCE - How to commercialize AI in pharmaceuticals industry
IN THE NEWS
21, December, 2020
IN THE NEWS - AWS Joint Innovation Center
Upcoming events